Results not typical and may vary by individual. Not all patients will reach the same activity level.
Billy Gowacki
A Passion for Fishing, Science and Egyptology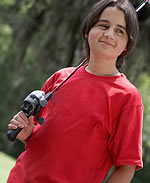 Billy Gowacki lives on a small island outside Tampa Bay and enjoys regular outdoors pursuits such as fishing snook, red fish and sea trout. When he has the occasion to leave the island, he is an avid visitor to city museums where he engages in interests like Egyptology and volcanoes. Billy's eyes light up when he talks about the latest in Egyptian archaeology and the exploits of Dr. Zahi Hawass, a well-known conservationist of Egyptian monuments and relics.
"I always dreamed that when I grew up I would be some kind of '…ologist', such as a volcanologist or an Egyptologist," says Billy. "But I am also just generally interested in science. Having had to deal with cancer at such a young age, I have had to learn a lot about my disease and how it's commonly treated. Now I have even thought about becoming an oncologist and dedicating my life to cancer research."
Billy was just ten years old when he found out he had Ewing's sarcoma in his right distal femur. His initial pediatrician had attributed his recurring aches to 'growing pain', delaying treatment for close to a year. When the disease was finally recognized, the team of doctors said he would lose his leg. However, after several months of chemotherapy, a bout with leukemia and a bone marrow transplant for which he found a perfect match, Billy has since made a full recovery and undergone a successful knee and hip replacement in addition to having a successful implant from Stryker GMRS™ that has allowed him to lead a more normal life.
Janet Walko
A Patient Wise Beyond Her Years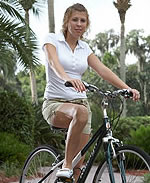 Janet Walko is a 19-year-old survivor of osteosargenic sarcoma, a form of bone cancer. She currently works with a non-profit organization called Base Camp, a group that provides monthly social outings and support to siblings and families affected by pediatric cancer. Janet's experience with cancer has impacted her long term career aspirations – she has been inspired to start school at Valencia Community College and become a radiology technician.
"I want to be able to teach people that they should not be scared to talk about cancer because discussion is the first step towards better understanding the disease. When I was going through it, I didn't have that many people to talk to and I know what a difference it can make so I continue to devote volunteer time towards educating others," says Janet.
"Dr. Letson believed that chemotherapy, surgery and a bone implant could save my life and my leg and I was implanted with the Stryker GMRS™ system in my right proximal tibia. It's true these treatments were lifesavers. The care I received from Dr. Letson and the H. Lee Moffitt Cancer Center & Research were equally important. Dr. Letson wasn't just my doctor but my friend – he gave me his home phone number and a bicycle for rehab. Arnold Palmer taught me that happy thoughts make happy cells and helped me keep happy thoughts in my head all the time."
"It's been several years now since the surgery and the implant has given me a new perspective on life. Because of it I can still roll over and step out of bed on my own two feet and I still have my own leg and my own knee. I have made it a part of my life and have learned to be a go getter no matter what."
"I can't express enough gratitude to Dr. Letson, Moffitt and the makers of my implant – Stryker. What the company is doing means so much to so many different people. They helped give me my life back!"
"I have always kept a positive attitude throughout the entire process and believe it's very important to remember to laugh, eat well and not believe any of the statistics you hear with regard to treatment and survivor rates. Overall, I am just truly grateful for the technology that is now available with modular replacement systems. It has helped restore my quality of life," says Billy.
Timothy Wahl
An Appreciation for Each Day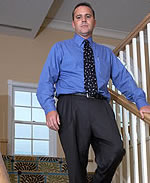 Timothy Wahl had just returned from a vacation skiing when he noticed that he was having a hard time walking. Prior to going to see a doctor, he thought he had pulled a muscle. When the doctor told him it was probably poor circulation, and a Doppler came out fine, he thought it was likely nothing to worry about.
But after having recurring pain in the middle of the night, he decided to have an X-ray after which his doctors confirmed his worst fears; that he had osteosarcoma in his left distal femur.
"It was a real blow to me and my wife. While my wife immediately began putting all of her energy into researching the disease and the treatment options that were available, I wasn't even in the mind frame to do that when I first found out. We have three children, ages 6, 8 and 10 years old, so my first thought was that it would be in their best interest to wait until they were older before we discussed my cancer," says Timothy.
"They said that as long as it was contained, it would be non life-threatening," he said.
The next day, his doctors called to say that they had succeeded in containing his cancer and that the possibility of losing his leg was out of the question.
"From that point on, my only focus was my family, recovery and maintaining a positive attitude. I am a big skier and I work out a lot and play basketball, so I was hopeful I would be able to resume many of the activities I had engaged in before," said Timothy.
"I don't run around as much as I used to, and there are still some things that can be a little hard, but I am truly glad to be alive. I have more of an appreciation for each day and I am thankful that there are technologies out there like the Stryker GMRS™ system, " he says.